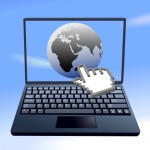 Adwords Express offers the easiest route to advertise on Google.  It simply enables you to quickly and automatically acquire highly targeted local customers.  And at the time of writing this post, it's relatively new on the market as a Google advertising program specifically to benefit local businesses. 
So, how can Google Adwords Express work for your business?
Let's assume you own a 'Gym' located in the area called 'Clapham'.  When people search online for your industry and area (e.g. Gym Clapham), a copy of your advert will then show up.  Your ad will for instance appear at the top of Google local search result page, as shown below:
Note: To enlarge the following image, click on it.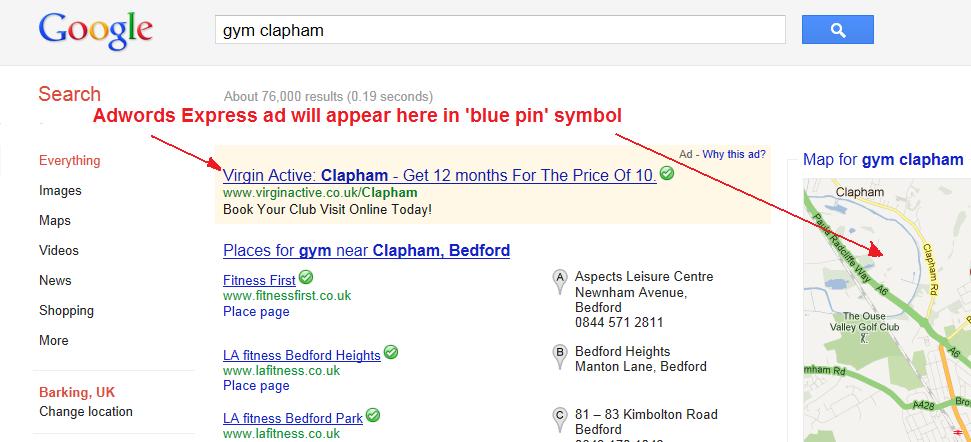 Google Adwords Express displays a 'blue pin' symbol next to the advert of any participating business. The blue pin will also appear on Google Map as described above. This makes an ad stand out from the competition and much more easily identified by targeted prospective customers.   And you know what else?
Management of your campaign is 'automatically' done for you once it's been set up.  This absolutely saves you time to perhaps focus more on other aspects of your business.
You simply set a maximum budget per month and the system won't go beyond your spend limit. Putting you in total control. And just like the traditional Adwords for Local PPC, Google Adwords Express is risk-free.  As you pay nothing unless people click on your ads.
However, there is bad news!  Adwords Express is not available in many countries at the time of writing this post.  It's fairly new on the market as I mentioned earlier.  Currently only available in the  US, UK, France and Germany.  But according to Google it will be introduced in other countries in due course. The fact that the program has not been around for long, a very cautious but steady approach is required.   Providing it's available where you are……
Here are 5 easy steps to launch your campaign via Google Places.
Step 1  – Set up your Google Places business page (If you don't have one already).  Assuming you have a business page, go to www.google.com/places and login.
Step 2 – Once you've fully logged into your Google Places admin area, click on 'Create Adwords Express Ad'.
Step 3 – Then enter your ad details for Category, Headline and Description.  (Google will automatically match your chosen 'Category' with relevant keywords or search phrases).
Note: As you enter your ad details, it's being automatically created on the right side of the screen. You'll see the complete ad copy once you've finished filling in the ad form…..
Step 4 – Tick the box where you want to direct visitors who click your ad.  Select either your 'Website, Place Page or Google+ Page'.  Then choose your budget for your ad.
Note: To maximise ROI (Return On Investment), choose carefully from step 4 above. It's best to direct prospects to a web page that's highly relevant to your advert.  This also means linking visitors to a page that converts well. By the way, you can track/monitor the performance of your linking web page, keywords and advertising campaigns using Google Analytics tracking tool.
Step 5 –  Once you've selected your budget, click 'Save and Continue'. Then complete your billing profile and order form.
That's simply how to quickly launch Google Adwords Express (via Google Places) for potentially a very profitable future.  And providing the ad program is available in your area, then give it a try.  You can cautiously start your campaign on a small scale and then go from there.  Any thoughts or ideas on the topic?  We welcome your valuable comment.