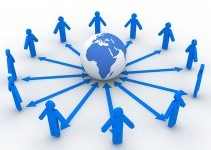 Are you not gaining internet viral marketing traffic to grow your business?   Perhaps you are, but not as much as you would have liked.  Maybe viral traffic generation is something completely new to you.  It could be that you are not fully aware of its incredible potential to really boost your business?   
In a previous article, I outlined exactly what it means by definition and also highlighted some profitable Viral Marketing Examples.  So, have a look at the other article as well by clicking the link in this paragraph.  It's definitely worth checking out!
RSS Feed is a valuable tool you can use to effectively generate viral traffic to your website for free!  And as a result, seriously elevate your sales and profit margin.
RSS stands for 'Really Simple Syndication'.   It's mainly used for sending regular updated information to targeted readers.  It was originally used by news organization to syndicate their published stories to their audience.  And it's now commonly associated with blogs.  As blogs use RSS feed to regularly distribute their content or offers  to targeted online audience.
So, how can you use RSS to generate internet viral marketing traffic?  There are certain steps you need to carry out…..
Step 1 – Produce Content-Rich Blog
You must first create a content-rich blog ready for RSS feed, if you don't  have one already. But why? Those days where you only have a static website with no regular updates are long gone.  Nowadays you must consistently provide fresh updated content on your site.  As it will help you maintain the interest of potential and existing customers.
There's no point activating RSS feed if there's very little or no content on a site.  It won't impress an audience. In case you are unaware, 'Wordpress' is a popular platform you can use to easily create a basic blog.  There are many themes to choose from WordPress to create your blog.   Choose the one that already has built-in RSS tool…this is easily identified with an orange icon just like the one on my site.
Once you have a blog with reasonable amount of content or articles on it, you can then activate your RSS feed.  You are almost ready to start generating internet viral marketing traffic.
Step 2 – Activate Your RSS Feed
To get your RSS feed activated on your blog,  you can register it with a feed management provider. The one I personally use and  recommend is 'Google Feedburner'. The Feedburner registration process is very simple. And you have to set up a free Google gmail account, if don't have one already.  But what about alternatives?  You can search online using the words "RSS Feed Management Tool" or  "Setup RSS".
But once your RSS feed is activated using Google Feedburner or a similar provider, paste the subscription details on your blog.  This way, your site visitors can subscribe to your news feed and start receiving your future updates or offers automatically.
Step 3 – Submit To RSS Directories
Once you paste your feed subscription details on your blog, it's now time to submit to RSS Directories.   You are now ready to highly achieve Online Viral Marketing traffic  to your website for free!   When you activated your RSS feed, you would have generated your feed URL.  You'll require your feed URL link for submission to RSS Directories.
Three reputable ones I recommend include Millionrss, Feedage and Rssmountain. Just submit your RSS url, the same way as submitting a website link.  To find more directories, simply search online for "RSS Feed Directories".
As soon as you've done your submissions, other relevant website owners can pick up your fresh content from the RSS Directories and distribute to their audience.   But do you know what are the key benefits here?  The webmasters that distribute your content will retain your details in the content (including your url links).  That will give you and your business ongoing free publicity.  Especially if you consistently produce quality fresh content on your blog, they'll usually be selected by webmasters through RSS Directories.
Before you know it, you start to generate huge flow of targeted traffic to your site for free!  Which could then lead to more customers and sales.  You'll even acquire ongoing back links to your site to boost your web presence and popularity for free!  This is just a slice of the incredible power of viral internet marketing using RSS feed.  Isn't it great?
Step 4 – Add RSS Feed To Forums
Register with appropriate forums in your niche and include your feed URL link in your email signature box.  Alternatively, you can simply approach other websites in your niche to inform them of your content for RSS distribution.   Can you see the bigger picture?  The point is similar websites to yours might be interested in aggregating your feed and placing your content on their sites.  Once again, you get free exposure to virally grow your business.  Interesting isn't?
Step 5 – Ping Blog & RSS Feed URL's
You should also make sure you ping your blog and RSS feed URL's. This will enable the search engines to visit and index your pages regularly.  You only really have to send a ping when you update your site with fresh content.  And you can use Ping-O-Matic  free of charge.
In conclusion, I hope you can really see huge value in using RSS feed to virally grow your business. There are other key ways to benefit from Internet Viral Marketing.  Click the link here for more details.  As I value your opinion, what are your views on RSS campaign? Do you consider it a great marketing strategy?