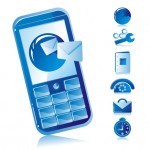 There are billions of cell phone users nowadays and the mobile communication industry is booming. Any business owner that's not using mobile marketing for growth is hugely missing out!  As this provides a great opportunity to easily and quickly generate more customers. But how can business SMS marketing vastly increase your customer database and sales volume? 
Use Opt-in SMS Webform: This is really the safest way to effectively grow your customer database. You simply shouldn't run a mobile SMS marketing campaign to  contact people without their consent. People easily get irritated by spam messages. Adding this form on your website allows someone to willingly join your mailing list and receive your messages. As a result, you'll get to achieve high sales volume when promoting to your opt-in list.
Offer Mobile Coupons: You can promote coupons (25% discount value) at your business premises or on your website as an incentive to increase sales. In the process, people can subscribe to your SMS opt-in list in exchange for receiving their coupon.
Provide Message Frequency: Keep your business SMS subscribers informed of your message frequency. This way, they are aware of what's expected. By not bombarding your audience with too many messages in a short time should keep them warm and responsive to your offers.
Offer 'STOP' Option: Offering the 'stop' choice to unsubscribe from your database will encourage a lot more people to sign-up. When people know they can opt-out as a subscriber, it puts them at ease to subscribe. Mention this clearly on your SMS Webform.
Be Time Sensitive:  This is really crucial to your SMS  promotional campaign. Early morning or late night text messages to your customers is obviously bad timing and irritating. Avoid this, and your sales volume will be much healthier.
Add Media Links To Promotions: Mobile SMS marketing is not just about sending text messages to your subscribers. You can really improve your sales volume by adding video or image links to your messages. Visual representation is a great way to really captivate your audience. For instance, a beautician can text a video link to subscribers about their latest beauty products to boost sales.
Make Messages Personal: People normally respond negatively when they receive non-personalised messages, as they see it as spam.   By sending a business SMS message to a subscriber with their name included, makes them feel important and react more positively. For that reason, you'll accomplish high sales conversions.
You can watch a Short Video that shows exactly how to easily create and grow your SMS Customer Database to generate more sales: