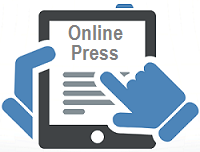 You are possibly looking for a refreshing and proven way to grow your local business, but you may not be aware that Online Press Release marketing might just be the thing that you have been seeking. And if you are wondering how this method is going to benefit your business moving forward, here's some key information.
Online Press Release marketing is mainly about publishing interesting stories or news about your business that are newsworthy, through the online press and media. As a result, you effectively get more publicity and grow your business.
Let me make something very clear – a Press Release is not a blog post, not an article or a sales copy. Therefore the format of a PR and how to apply it properly as a marketing strategy is different.
When you know how to do Press Release Marketing in the right way, it will absolutely produce great results for you. The fact is the media that was used to distribute press releases has evolved. Instead of only going to television or radio stations, now they can be found anywhere from news websites to article directories and everywhere in between.
The Internet is actually the primary medium for press releases now, making it perfectly ideal to make and distribute one. Local businesses that highly take advantage of this method can really get far ahead of their competitors. Here are 3 major benefits…
3 Key Benefits of PR Marketing
Press releases bring you more customers. By including links to your website within your press release, hot prospects will connect with you. If you set everything up in the right way, search engines (like Google, Bing) will pick up and highly rank your press release (fast) for your targeted local keyword search phrases. Your PR publication will also be viewed by (a ton of people) and providing your content is good enough, they will click on the links to learn more; thereby, increasing traffic to your website. But more importantly, you generate more new leads and more paying customers.
Press releases brand your business online. With each PR content you publish across the internet, you are consolidating and growing your local business brand. When you write a press release, you almost double-brand it because you include all the information about your business, so people know who you are. Mostly though, press releases are regarded with some of the highest integrity on the internet, and when you publish a press release, the integrity of your business is also noticed.
Press releases increase your online credibility. When you publish a high-quality press release, you establish yourself as an expert in your industry and field. The people that have come across any of your PR publications will read whatever you publish online, because they already trust you. Besides, if your competitors are not marketing online using press releases or not doing it properly, you will stand out in your industry in the eyes of your target market, which will further enhance your credibility. And before you know it, more and more of those readers of your publications will effectively become your customers.
Would you Like More Customers
via Online Press Releases?
If so, we have our proven method for local businesses.
Discover how to get customers quickly and easily!

http://websiteleadspro.com/pressrelease
This entry was posted in Online Press Release and tagged Local Business Press Releases, Online Press Release Marketing by Shefiu. Bookmark the permalink.