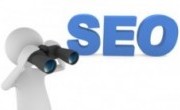 Perhaps you are aware that the change from Google's 7-pack, reduced to 3-pack listing has had a major effect  on local SEO (Search Engine Optimisation) to generate customers. Many local businesses struggled to get featured when top seven spots were available in Google search results.
Now being listed in the top three seems even more of an uphill struggle…
The good news is achieving this key objective is still possible. Although, it does take time, skills and knowledge for getting the job done.  Being found by local consumers who are searching online for your type of product or service is one of the most targeted forms of marketing available today.  But unless you really know what you are doing, getting there can be tricky indeed.
The fact is if your business is listed in the Google Maps SEO 3-pack for valuable keywords, you will effectively be acquiring customers on a regular basis. Below is a typical example of 3-pack listing – (which shows the top 3 ranked local businesses) for the keywords 'Dentist Romford' via Google search results…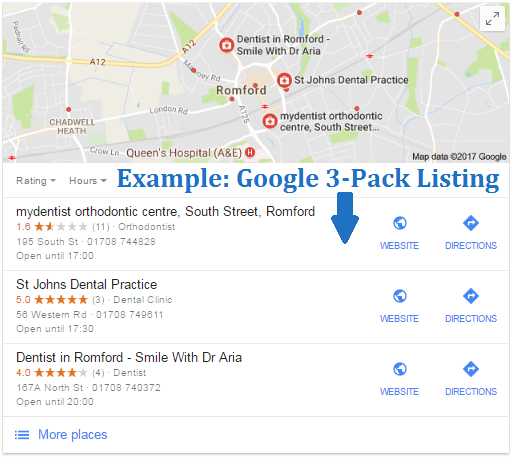 To help you get started on the right track to show up in the Google 3-pack for relevant keyword search phrases, here are some major tips:
Generate more business citations
In terms of ranking your local listing, one thing Google pays close attention to is how regularly a company is mentioned or displayed by other sources across the internet. This means it looks for quality "citations" to verify your business.  If you are not already aware, a citation is basically your business name, address and phone number appearing anywhere on the web – with OR without a link back to your website.
For a citation to count, your information shown by other external sources across the internet must be an EXACT match to the information on your Google My Business listing.
Citations help prove to the search engines that you are a genuine company. Hence the more of them you generate from quality sources, the better your local listing SEO rankings.
Paste photos inside your listings
As the saying goes, 'a picture is worth a thousand words' and consumers love photos. The more top quality images you add to your Google local listing profile, the more it attracts prospective customers. This goes beyond  Google;  even Yelp has published advice on how to optimise your business listings, stating that pictures make a huge difference. It even goes as far as to say that according to research from Review Trackers, the listings that include photos make consumers spent 2.5 times more of their time than the listings without.
Gain as many reviews as possible
It's no secret that reviews are an important part of getting noticed online for a local business these days. Consumers love writing reviews about businesses they visit or use and they also relish reading them.  Google takes note of this. It wants to promote the best local businesses and what better way to decide on who those businesses are than through positive user reviews? If you would really like to effectively boost your local SEO rankings, ask your customers as much as possible to leave reviews.
My Last Words…
For your business to be showing up on Google SEO 3-pack and be acquiring new leads is surely a lot more challenging than it was with the 7-pack; obviously as there are less spots now available.
The tips above will help, but there are also other important tasks required in order to rank in the 3-pack Maps listings. You will of course need to always keep up with local search engine changes and ensure all of your company's information including your Google My Business profile is listed correctly and updated whenever required.  Besides, ensure you make clever use of categories and strategic relevant keyword placement within your profile to give it strength on an ongoing basis. Feel free to contact us if you need help, as we specialise in doing this stuff successfully for local businesses.