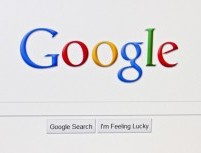 To achieve high ranking positions in Google Places for local search engine terms, Google citations are required.  This article is about highlighting why citations are essential for your business and how they can help you acquire top rankings in local search results.
But firstly, what are Google Places citations?
Citations are votes (in form of links) from across the web that are directly credited to your Google Places page.  In other words, they are a mention of your business name, address and phone number by other sites on the internet.  It's important that you accurately include your correct business listing on your page.  As Google search engine crawlers have to verify your listing is genuine in order to reward you with regular quality citations.
So, why are citations essential for your local business?
Google view links from other websites pointing to your Google Places page as votes.  By frequently getting citations (from other sites), you'll accomplish high rankings in Google local search engine results.  The more quality citations relating to your page, the more traffic generated and the higher your rankings.
Other websites linking to your page can even incorporate positive reviews, local directory listings or blog posts.  And if you receive a citation from a high authority site, it offers great boost to your rankings in the Google local search results.
High authority means a high traffic, reputable and popular website in the eyes of Google. By simply getting a link from such a site to your page, you will be more rewarded by Google for better rankings.  For example, a business owner receiving a link from a local Mcdonald's restaurant could provide more ranking value than one from a local pizza restaurant.
How to acquire Google Places citations
Although Google index citations to your page when they crawl it.  But how could you influence which sites provide links to your Google Places page?
Use "Discussions" Filter – One method of acquiring citations to boost your rankings for local search terms is by using Google 'Discussions' filter.  As shown below:
Note:  Click on the image to view an enlarged version if you prefer.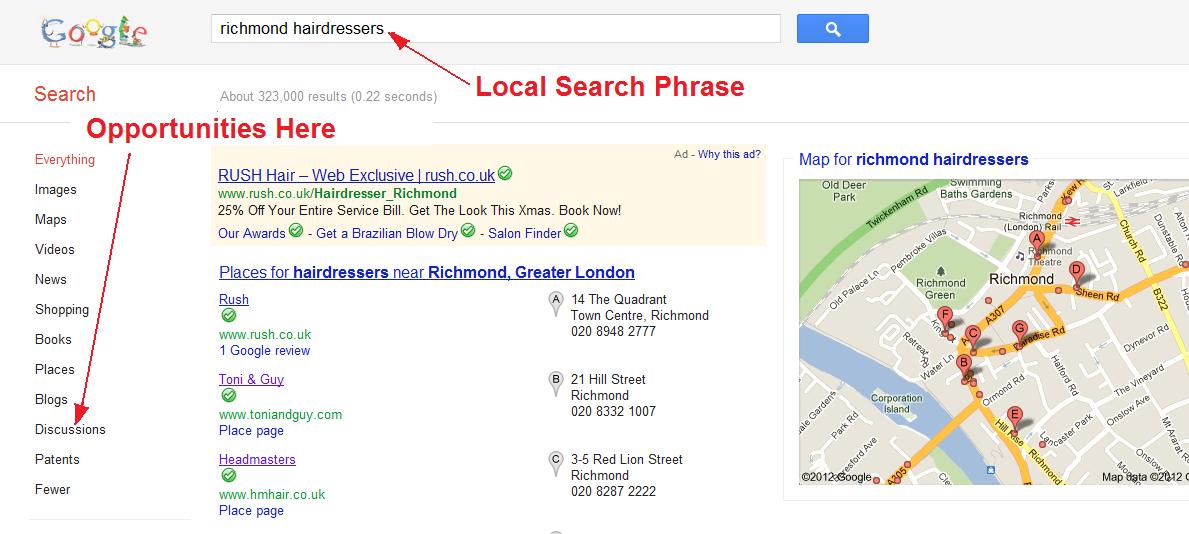 As shown above, 'Discussions' filter appears (on the left) in Google browser. This provides great opportunities for getting citations to your Google Places page.  From the above screenshot example, I also entered 'Richmond Hairdressers' in the search box which is a 'local search phrase'.  But how exactly can you get citations with this method?……
Go to Google and enter a search phrase or keyword relevant to your business. Click 'More' on the left side of your browser. Now select 'Discussions' filter.  By clicking 'Discussions', you can search results to display sites that Google think active discussions are happening. Choose the sites that are mostly relevant to your business and target market. Also select the ones that offer you opportunities to join as your business. Then add your comments regularly to relevant discussions.  As this creates opportunities for you to leave your business details or link back to your Google Places page.  So you can then generate valuable citations on a continuous basis.
Target Competition Citation Sources – Another way of getting citations is by checking out your competition to see sites that are linking to them.  Visit Google search engine and just pick out the business listings ranked high for your own 'local search phrases'.  Dig out their citation sources or references (via their webpages).  Then visit the same sources to request possible citations for your own Google Places page.
Contact High Authority Websites – You can also find and contact relevant authoritative websites in your niche.  Then ask the site owners if they can write a review or listing on their site about your business.  This way, you'll definitely get high quality relevant citations back to your page.
Approach Your Industry Associates – Contact suppliers, customers and other business acquaintances in your industry.  Once again, request  if they could write a review or listing on their sites about your business.   As a consequence, your Google Places page will be credited with more citations to boost your rankings in Google local search results.
Register With Quality Local Directories – You should also list your page in high traffic and popular local business directories (such as Yelp.com, Yell.com etc).  To find relevant online local directories, search on Google and pick the ones that rank in the top pages of results.  Particularly register with the directories that have several local businesses in their listing and full of activities.  This way, you can greatly benefit from boosting your brand awareness, traffic generation and getting citations to your business listing.
Always Apply Your Correct Business Listing – As mentioned earlier, your business page listing must consistently include your real business name, address and phone number across the internet.  Otherwise, you won't be credited with a citation.  And that also means you will not be trusted and rewarded by Google for high rankings in their local search engine.  So, ensure your business details are correctly listed online to positively build your credibility and authority in the eyes of Google.
That's it!  I hope you now acknowledge the true value of Google Places citations and why they are important for your business development.  If so, then take the necessary course of action. And please feel free to have your say by leaving a comment.