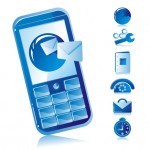 More than ever before, having a mobile optimised website for business is not an option, but now an absolute priority. Consumers these days highly visit the internet via their mobile phones in search for products, information and services. With that in mind, there are some key questions to seriously address…
Here are the key questions to answer…
Is the existing information on your website very tiny, difficult to read and navigate from a mobile phone?
Do customers have to zoom their smartphone screen or slide it sideways to view your content?  Is key information (e.g. contact details) not prominent?
Is your site very slow to load up on a smartphone and therefore putting off your visitors? Are you seeing a blank screen?  Do your design layout and content look cluttered?
Test out your website on a smartphone. If you answered 'yes' to any of the above questions, you have a problem…
This means your site is not mobile friendly…
As a result, this will have a negative effect on your website conversion rate. In other words, you are potentially losing many leads, customers and sales to your competition.
You see, there are over 5 billion mobile phone users worldwide. Over 62% of the entire adult population in the UK alone now have a smartphone (Source: Ofcom).
It doesn't matter where people are, they have their phone to find local businesses just like yours. By having a mobilised website will help you to effectively tap into the huge mobile opportunity and start getting your piece of the pie. Why else is jumping on board a top priority?
There's key Google Mobile Update…
Google is now penalising websites that are not mobile optimised. Affected sites will lose ranking positions, web traffic and business via mobile search engine. This important update is called 'Mobilegeddon'.
Only websites optimised (for smartphone users) will now be showing up in mobile search results. This change came into effect on 21 April 2015 according to Google.
If you have not gone mobile, you now have a big reason to do so.  I'm sure you want to avoid getting penalised and losing a lot of business to your competitors.  You can actually use Google mobile test tool to find out whether Google sees your site as mobile friendly.
And remember to check your website on a smartphone. See what it entirely looks like by answering the key questions at the top of this page.
How about the Mobile Effect on Advertisement?…
If you run paid media or online advertising campaigns like PPC (Pay Per Click), not having a mobile friendly site can hugely have a negative effect on your ROI (Return On Investment). Because a high number of your web traffic and targeted prospects will come from mobile devices. Therefore if you are paying to get customers, it certainly makes perfect business sense to have a mobile optimised website.
My Last Words…
As you can easily see, going mobile is definitely now a top priority to highly increase your website conversion rate and generate more business.
Something else I would also like to mention about mobilised websites. If someone visits your website on a smartphone, they will automatically be shown your mobile version. And if they access your site on a desktop computer, they'll see your desktop version.
Assuming your site is not mobile friendly, we can fix the problem for you.  We do offer this as a service to all kinds of local businesses.  If you need help, feel free to get in touch.